Common Table works to help reduce poverty in our community through job training. We provide training in the culinary arts to those who face barriers to employment, empowering them to achieve success in their careers and personal lives. During the 8-week program, students learn the basics of working in the food service industry and obtain Louisville Metro Food Service Manager's Certification. Skills are refined through experiential learning in the kitchen as students prepare food for catering orders.
Common Table has an 81% job placement rate and graduates have been hired at the Omni, Collegiate, Eddie Merlot's, Masterson's, Levy and Kroger. Common Table offers a variety of catering services from box lunches to full-service event catering. All revenue generated through catering sales supports the training program.
Click here to learn more about this program and its sister program, Common Earth Gardens!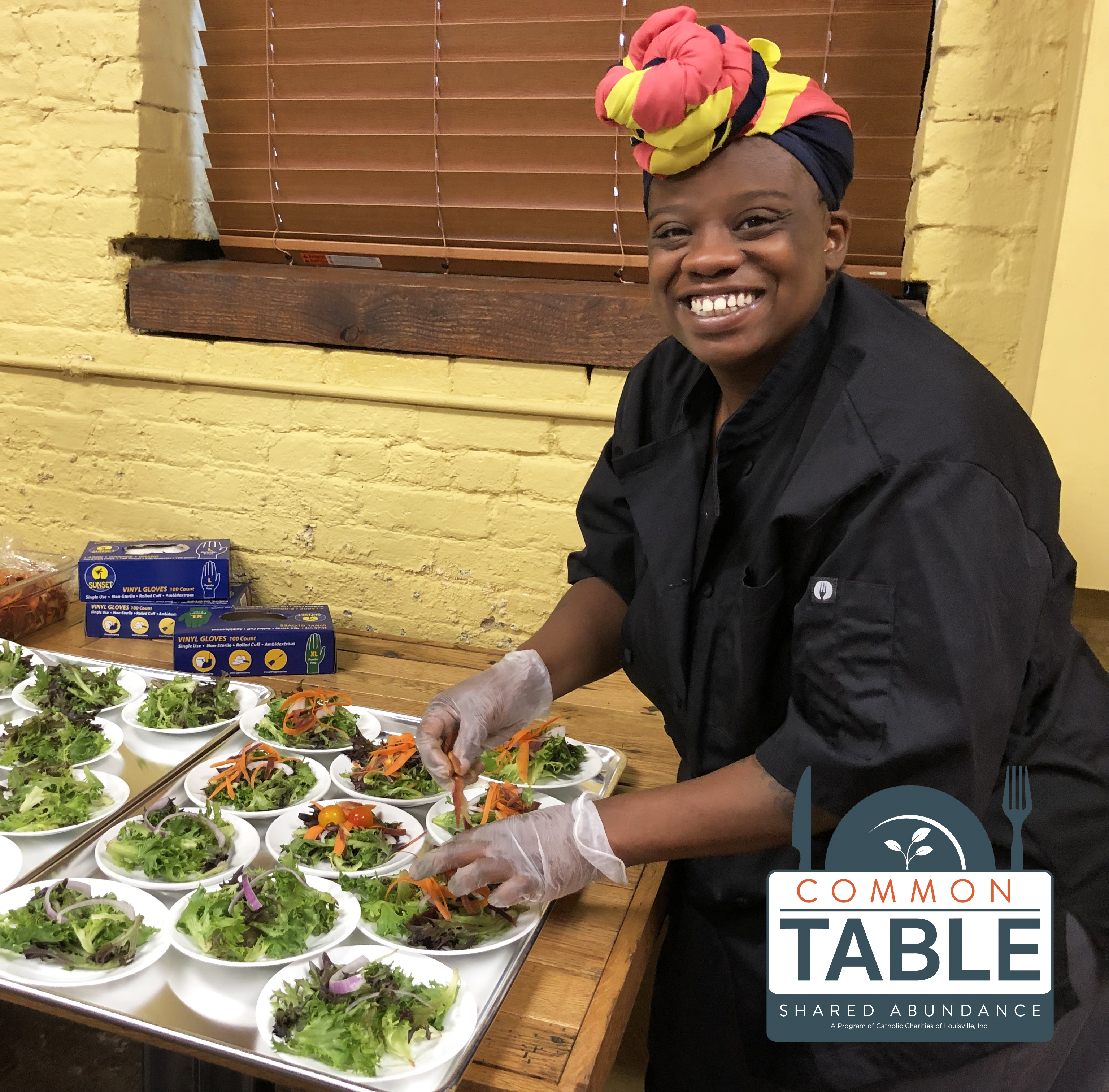 Training takes place Monday through Friday, 9am-2pm in the certified kitchen at Catholic Charities' St. Anthony Campus, located at 2234 W. Market St, Louisville, KY 40212. Through classroom and hand-on learning, participants receive a total of 200 hands-on food training hours over eight weeks. During the course, participants take the Louisville Metro Food Manager's exam and upon graduation students receive a certificate of completion, chef knife, and job placement assistance.
The following skills are taught during the course of the class in order to help the students establish gainful employment in the industry:
Food safety and sanitation
Kitchen safety
Knife skills
Food preparation and cooking methods
Menu design and food costing
Nutrition basics
Customer service
Resume building
To enroll you must first attend an information session and fill out an application. Interviews will be conducted and students will be selected based on their dedication and ability to commit to the course.
Upcoming Info Sessions:
July 13 at 2:00 pm
August 17 at 2:00 pm
September 14 at 2:00 p.m.
October 12 at 2:00 p.m.
Please use this form to register for an informational session.
If you have any questions please contact Laura Stevens at lstevens@archlou.org or 502-873-2566 ext. 256.
In preparation for our move to the new building, Common Table will no longer serve lunch in the cafe. We thank everyone for their continued support over the past few years! Keep us in mind for catering and boxed lunches!
Check out the menus below! To place an order contact Laura Stevens 502-873-2566 ext.256 or lstevens@archlou.org 
Join us for the first soup and bread subscription of 2020! Enroll in the subscription to receive 6 weeks of a quart of freshly made soup, prepared by Common Table students, and bread baked fresh daily by Wildflour Bakery. Click here to sign up.