The most vulnerable among us face an array of challenges, and Catholic Charities is committed to assisting clients via direct services or by connecting them with like-minded organizations to get the help they need.
Catholic Charities of Louisville works in conjunction with a long list of local agencies to restore hope and provide support. Depending on the particular challenges a client is facing, our Resource Center staff will identify the appropriate organization to provide assistance. Examples of community partners are:
Food banks and community meals
Employment services
Maternity resources
Addiction recovery programs
Mental health services
Homeless shelters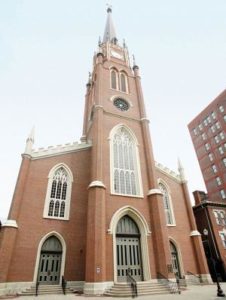 Four days a week, a Catholic Charities staff member provides a helping hand at the Cathedral of the Assumption's daily lunch program. This staff member assists in distributing food to those in need and provides social support and referrals for community resources as needed. Learn more about the Daily Lunch Program.