No donations are being accepted during this time. Migration and Refugee Services ESL classes and employment or cultural orientations are canceled until further notice.
Migration and Refugee Services
Migration and Refugee Services (MRS) "welcomes the stranger" with open arms, helping those escaping persecution begin new lives with dignity. Our multilingual, multicultural staff offers comprehensive services and begins assisting refugee clients pre-arrival by finding suitable housing and stocking the home with food and furnishings. Families are greeted at the airport and we work with them every step of the way to adjust to their new homes. This includes assisting with employment search and placement, school registration, English language training, and cultural orientation classes.
Most refugee families are financially self-sufficient within four months of arriving in the U.S. We also assist other immigrant populations with case management referrals, employment assistance, and English language training for up to the first five years in the United States. We have been resettling refugees in the metro area since 1975 as Kentucky's official representative of the United States Catholic Conference of Bishops, one of nine U.S. agencies that has a cooperative agreement with the federal government to resettle refugees.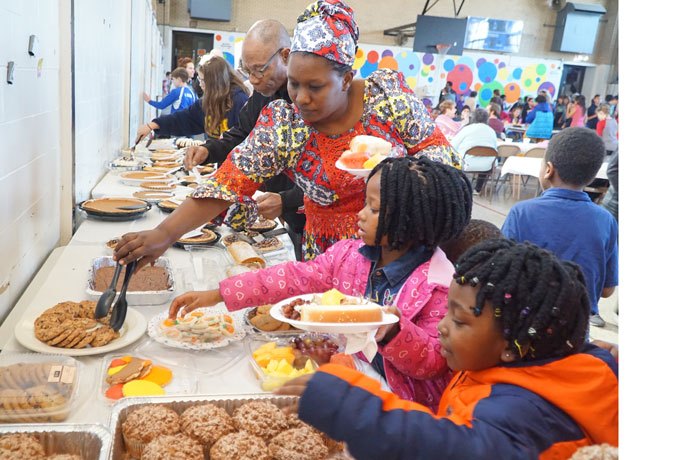 Our case managers oversee all logistical elements of the resettlement process, refer clients to outside agencies, and troubleshoot any adjustment issues our families might encounter.
Pre-arrival arrangements:
Find suitable housing for families
Deliver household items and furniture
Purchase food and deliver to the home
Airport arrival:
Pick up families and transport to their home
Provide brief orientation and review safety considerations (electrical outlets, oven, etc.)
Post-arrival services:
Transport to orientations, medical appointments and school registration
Apply for public benefits
Provide community orientations (how to access bus routes, etc.)
Provide interpretation as needed
Arrange refugee health screenings

Caseworkers work with community partners at the University of Louisville, Family Health Centers and Home of the Innocents to provide all incoming refugee clients and their families with an initial medical check-up and Green Card vaccinations. These screenings also give clients early access to necessary medications and appointments with specialists.

Mental health screenings

Our mental health coordinator conducts regular screenings and makes referrals to outside agencies for mental health treatment.

Medicaid assistance

Caseworkers monitor refugees' medical insurance eligibility and access and troubleshoot any issues that arise.

Finding a medical home

Clients are educated about the need for well-care and finding a primary care physician (PCP). Caseworkers help clients select a PCP, make an initial appointment, and learn how to access medical treatment independently

Transition to long-term assistance such as job upgrades, assistance with immigration status and naturalization paperwork, and referrals to outside agencies
English as a Second Language Training consists of ESL instruction, cultural orientation, computer instruction and child and family-oriented classes that support our refugee students' integration into a new culture, employment and independence.
The students take an assessment test for placement in an appropriate ESL class where they learn essential aspects of English language required to live and work in their new community.
An onsite childcare is available for babies and toddlers up to age 5. Children's program instruction focuses on the language, social and motor skills development through structured and self – directed play, art and music. Parents and children also meet during PACT (parents and children together) time when they engage in short, meaningful activities that provide the families with an opportunity to learn together.
Cultural orientation and family-oriented classes are provided with interpreters to help students understand the information and resources related to the new culture, the challenges that come with acculturation, and resources to support their transition into the new community.
More information related to the various programs and orientations at our ESL school are provided under Special Programs.
Migration and Refugee Services' ESL School
2234 West Market St, Louisville, 40212
ESL instructions: Mondays – Thursdays, 9:30 am to 12:30 pm
Cultural orientations: Fridays, 9:30 am to 11:00 am
Over 60 percent of refugees resettled by MRS are under the age of 18, which prompted the launch of our youth services department. Children who are not supported in the early months of resettlement are at risk of suffering from depression and loneliness, which makes this department crucial for families. Our staff work to provide case management and targeted programming to ensure children have the support they need to succeed in their new home.
School Registration and Orientations – Once children arrive to Louisville, we enroll them in Jefferson County Public Schools through the ESL Intake Center. Prior to starting school, each newly arrived child receives a backpack full of school supplies, as well as school uniforms if needed. Children and parents are given orientations about what to expect, such as daily school schedules, grade and attendance guidelines, navigating JCPS, and language access. Parents also are assisted with navigating parent teacher conferences and other school meetings.
Summer Program – Students who arrive during the summer are enrolled in our youth summer program, which takes place Monday-Friday from May through August. JCPS teachers and volunteers teach English, math, reading, and art and music therapy classes to school-aged students to familiarize students with school routines. In addition, students go on field trips to places like the Big Four Bridge and a carnival hosted by a local parish youth group. We typically average 40-80 students a day in this program, and it is a highlight of our youth services department.
Referral Services – The youth services department makes referrals to outside agencies when necessary. We have relationships with social service agencies such as Home of the Innocents and the Center for Women and Families.
Each year, our employment department connects hundreds of legally admitted refugees with job opportunities throughout the Louisville area. There are many reasons to hire refugees:
Businesses who hire refugees can sometimes qualify for the Work Opportunity Tax Credit.
Refugees contribute to a more diverse workplace and have proven to be dedicated employees, improving productivity.
Refugees have the documentation needed to satisfy I-9 requirements.
Our employment team works closely with employable refugee clients from the time of arrival to give them the skills they need to be successful. Training includes English classes, orientations on workplace culture and expectations, supervisor/employee relations, interview skills, understanding new hire paperwork and more.
Our refugee clients have obtained positions throughout various industries, such as warehouses, JCPS, hospitals, factories, hotels, restaurants and retail stores. We help facilitate every aspect of the hiring process, including pre-screening applicants to ensure job requirements are being met, assisting with applications and interviews, and providing interpretation and training. We also provide post-hire follow-up and support. These services are provided at no cost to the client or employer. Quality employment is the most important factor in achieving self-sufficiency, and we are proud to have strong relationships within the business community.
Any local business or organization interested in partnering with our employment team can use this form to contact us, email MRSemployment@archlou.org or call 502-636-9263.
Employer Testimonials
"Throughout my 12-year tenure here at The Brown Hotel, I have been fortunate to work closely with Catholic Charities to help fill positions and bring diversity to our workforce. We have found that the refugee clients brought forward often display a level of maturity and ambition that makes them a true asset to our operations. As the son of a WWII refugee I have a unique perspective and clearly see that these staff members have a lot of offer us in terms of their prior work and life experiences and with a little coaching many of them have progressed into supervisory positions. Considering the high cost of turnover it has been wise for us to work so closely with Catholic Charities"—Marc Salmon, HR Director at The Brown Hotel

"Many of the refugees hired within our organization have become key players on our manufacturing plant floor." —Amanda Harrison, HR Manager

"Mesa Foods LLC has used Catholic Charities as our primary source to fill positions at our Louisville based facility…With the help of Catholic Charities, we have been able to fill critical positions at our facility. Many of these people started in entry level positions and have now been promoted to higher paid equipment operator positions." —Sherrie Weber, HR Manager at Mesa Foods LLC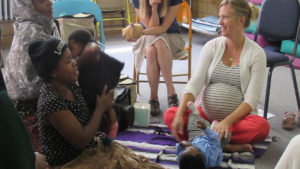 The Support Services Team provides medical and mental health resources, long-term case management, and access to services and supportive programs that are not typically included in the core case management program.
Much of this team's time is spent on Health and Wellness Case Management. Clients in need of assistance in this area are given an orientation that focuses on the details of the Refugee Health Screening, how to use their Medicaid insurance and their rights as patients, such as the right to an interpreter and a basic understanding of their right to privacy as outlined in the Health Insurance Portability and Accountability Act (HIPAA)
Cultural Orientation Class
The students meet once a week to learn about common elements of American culture. The class presentations are covered by community partners and our staff members and include topics related to budgeting and finances, transportation, legal rights, personal and home safety, community services and resources that are relevant to daily life in the Louisville community.
Women's and Family Empowerment Class
The class focuses on educating and empowering refugee women and their families with the skills and resources necessary to create a safe and healthy lifestyle for themselves and their families. While adjusting to life in a new country, refugees experience a conflict with their traditional beliefs and relationships in their families. Refugee women and children are especially vulnerable during the resettlement process since they experienced gender-based challenges and lack of support and resources in their home countries and throughout their migration. The skills and resources the students learn in the class are essential to improving the quality of their lives and their communities. Cultural changes related to health, budget and finances, children and schools, gender roles and parents' relationship, employment and childcare challenges, setting goals and family priorities are some of the topics covered in the class.
Sewing Class – "Stitches of Hope"
In 2014, a dedicated volunteer, Suzanne Klemenz, helped create a sewing program for refugees to learn or improve their existing sewing skills, express their creativity, learn new vocabulary and have an opportunity to socialize in an informal setting. In addition, the students also have an opportunity to gain some practical experience that can empower them to be successful in employment. The items made by the participants, such as aprons, microwave bowl holders, purses and bags, are available for sale at community bazaars.
For special orders, ESL program manager, Zeljana Javorek can be contacted via email at zjavorek@archlou.org or by a phone at (502) 873-2566 ext. 215.
The class meets on Mondays and Wednesdays from 10:30 am to 1:00 pm.
Computer Class
The computer program is offered to students at our ESL school. The students participate in teacher – assisted learning or independent study. Many refugees come to Louisville with basic or no computer literacy, which makes our computer classes vital to successful integration into our society. The ESL Computer Program teaches employable refugees the computer skills they will need in everyday life with specific focus on skills related to obtaining and maintaining a job. Our teacher crafts lessons based on students' English skills and computer literacy ranging from basic hardware skills, such as learning how to use a keyboard and mouse, to using Microsoft Office programs for creating a resume or a simple budget. The students are also introduced to various websites and apps they can use to practice their language and computer skills.