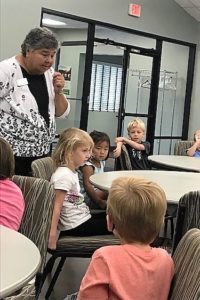 The Sister Visitor Center is an emergency assistance program that provides the most basic of human needs: food, clothes, assistance with rent, utilities, furniture and medicines.
The Sister Visitor Center began in 1969 in an effort to help meet the needs of the poor living in the Portland, Shawnee and Russell neighborhoods of west Louisville and continues to strive to do so today. As an associate member of the Area Community Ministries , SVC serves approximately 300 households every month.
The heart of the Sister Visitor Center lies in the command of Christ to feed the hungry, clothe the naked and shelter the homeless. Staff and volunteers carry out this mission in the following ways:
Providing emergency aid with rent, utility bills, prescriptions, medical supplies
Visiting sick, elderly, handicapped persons, and families in need
Distributing food as a Dare to Care food provider, personal hygiene supplies and clothing to people in crisis situations
Assisting people in obtaining help from public agencies
Collaborating with other agencies, i.e. distributing Community Winterhelp funding
We take donations Monday through Friday from 8:45 a.m. until 12:00 p.m., and from 1:00 p.m. to 4:00 p.m.
We accept donations of:
Gently-used, in-season clothing
Toiletries – especially bath soap, shampoo, toothpaste, toothbrushes and deodorant
Toilet paper
Laundry detergent
We do not accept:
Furniture
Toys
Computers
Medical equipment
Supported by