Bakhita Empowerment Initiative trainings and awareness events will only be conducted virtually for health and safety reasons until further notice. 
Bakhita Empowerment Initiative
Providing direct assistance and case management to survivors of human trafficking, this program also aims to educate the community about human trafficking, as well as how to identify individuals who are being forced or coerced for the purpose of sexual exploitation or labor.
The program's staff encourages self-liberation as opposed to "rescuing" clients. This approach restores power, which is vital to achieving self-sufficiency. We also offer My Life My Choice, a ten-session, nationally acclaimed prevention and support group curriculum that is used to educate and empower girl-identifying youth ages 11-18. Victims come from all demographics and include young children, teenagers, men and women. The Bakhita Empowerment Initiative works with willing clients who are seeking ways to emancipate themselves and begin a new life, self-empowered and independent.
Click below to view the Preventative Education report and the Annual Report.
Human trafficking is a form of interpersonal violence that involves exploitation for the purposes of commercial sexual activities or labor or services, through the use control to force or compel victims to engage in those activities.
The Trafficking Victims Protection Act of 2000 (TVPA) defines "Severe Forms of Trafficking in Persons" as:
Sex trafficking:
Commercial sex act induced by force, fraud or coercion, or in which person performing the act is under age 18. The term ''commercial sex act'' means any sex act on account of which anything of value is given to or received by any person. Exception to rule of control: When minors (under 18) are exploited in commercial sex, there is no need to show force, fraud or coercion
Labor trafficking:
Debt bondage means a person is under the control of their debtor as a security for debt, if the value of those services as reasonably assessed is not applied toward the liquidation of the debt or the length and nature of those services are not respectively limited and defined.
Involuntary Servitude is a condition of servitude induced by any scheme, plan, or pattern intended to cause a person to believe that, if the person did not enter into or continue in such condition, that person or another person would suffer serious harm or physical restraint.
22 U.S.C. §  7102, Victims of Trafficking and Violence Protection Act. (2000). Sec. 201–103, 106th U.S. Congress.
https://www.govinfo.gov/content/pkg/BILLS-106hr3244enr/pdf/BILLS-106hr3244enr.pdf
25 typologies of human trafficking in the United States
Each typology has a unique business model, trafficker & victim profile, recruitment strategies and control mechanisms that facilitate that particular type of trafficking.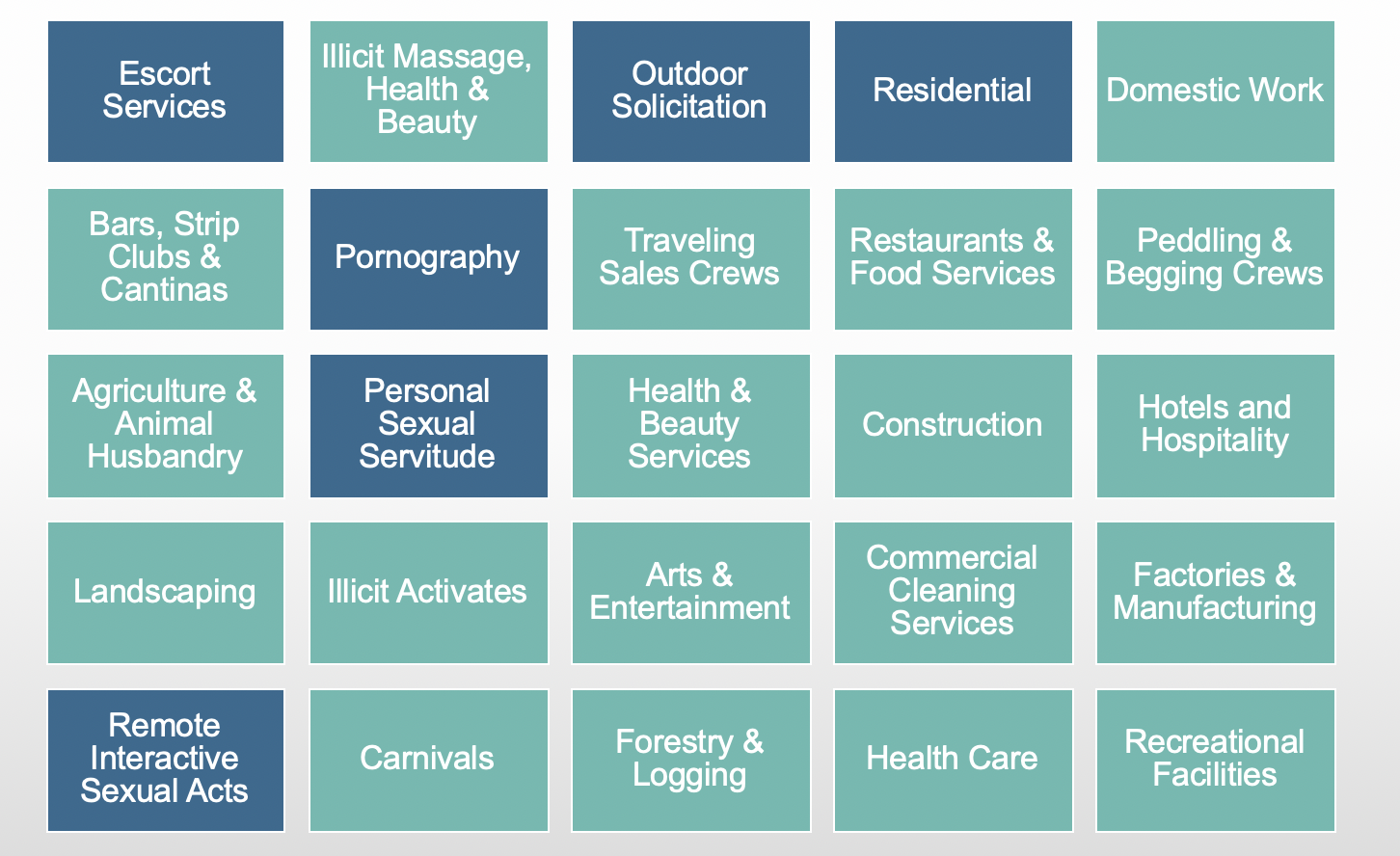 Polaris. (2017). The typology of modern slavery: Defining sex and labor trafficking in the United States. https://polarisproject.org/typology
You may have encountered trafficking victims without realizing their circumstances. It is important to know the "red flags" so that if you encounter a victim, you will be prepared with information to offer help or make a report on their behalf.
The following information on case identification provides a brief background on human trafficking, as well as tips for identifying and assisting victims. A trafficking victim may look like many of the people you see daily. You can help victims of trafficking get the help they need by looking beneath the surface for evidence of being controlled and exploited for either labor or commercial sex.
The Trafficking Victims Protection Act of 2000 provides for prevention, protection and prosecution in trafficking cases. The protections provided to victims of human trafficking include, but are not limited to:
For foreign national victims: Applying for a T Visa, which provides temporary legal immigration status for up to three years, with the possibility of applying for permanent residency.
For foreign national victims: Ability to receive certification from the Department of Health and Human Services upon receipt of a T Visa, thereby allowing the victim to qualify for public benefits, such as those received by refugees.
Rights of trafficking victims in Kentucky include:
They are not culpable for crimes committed as a direct result of their victimization.
They should not be detained in facilities inappropriate to their status as crime victims.
They must receive necessary medical care and other assistance.
They will be provided protection if their safety is at risk or if there is danger of recapture by the trafficker.
Minor victims of human trafficking shall not be charged with prostitution or other offenses they were forced to commit as part of their trafficking. This includes not being charged with status offenses related to their trafficking (being a runaway, out of control of parent, or truancy).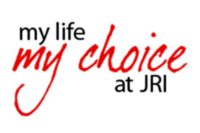 We offer My Life My Choice, a ten-session, nationally-acclaimed and evidence-informed prevention and support group curriculum that is used to educate and empower female identifying youth ages 11-18.
We offer the same group for male-identifying youth, following "I Am Building a Healthy Identity," by Stefania Agliano and Bryan Hall.
Contact Tamar Israel for more information at tisrael@archlou.org.
Survivor leadership training
Tattoo and branding removal
Accompany clients to service appointments, court dates and interviews with law enforcement
Advocate with service providers, law enforcement and courts
Assist with applications for benefits
Assess needs, set goals and devise a safety plan
Offer ongoing personal support and assistance with accessing services
For emergencies, please call 911. To report suspected human trafficking, call the National Human Trafficking Hotline 24 hours a day at 1-888-373-7888.