Bakhita Empowerment Initiative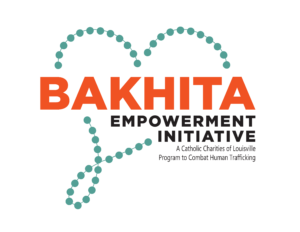 The Bakhita Empowerment Initiative of Catholic Charities provides direct assistance and case management to victims of human trafficking. The program also aims to educate the community about human trafficking, as well as how to identify individuals who are being forced or coerced for the purpose of sexual exploitation or labor.
The Bakhita Empowerment Initiative serves willing clients who are seeking ways to emancipate themselves. The program's staff encourages self-liberation as opposed to "rescuing" clients. This approach restores power, which is vital to achieving self-sufficiency.
The program — previously called Rescue and Restore Kentucky — was renamed in honor of St. Josephine Bakhita, the patron saint of human-trafficking victims. Click here to learn more about St. Bakhita.