In an effort to prevent spreading of COVID-19 to residents in long-term care facilities, ombudsmen are also restricted from visiting during this time.  During this time we are relying on other methods of communication, including FaceTime, video-conferencing or teleconferencing options.  If you have any questions or concerns contact LTCO Program Director Natalie Brown-Radtke at 502.637.9786 or 965.8310 or email at nbrownradtke@archlou.org.  For further information regarding COVID=19 you can call the KY COVID Hotline at 1.800.722.5725 or visit www.covid19@ky.gov.
The Long-Term Care Ombudsman Program strengthens the voices of those in nursing homes and other long-term care facilities, accompanying and supporting them while providing the tools to advocate for themselves by educating them on their rights.
With the assistance of a large network of trained volunteers, we provide this service at no cost to residents across Breckenridge, Bullitt, Grayson, Hardin, Henry, Jefferson, Larue, Marion, Meade, Nelson, Oldham, Shelby, Spencer, Trimble, and Washington Counties. That's over 9,700 beds in more than 125 facilities.
Ombudsman responsibilities outlined in the Older Americans Act (an act created in 1972 and amended in 1978) include:
Identify, investigate, and resolve complaints made by or on behalf of residents
Provide information to residents about their rights
Educate and inform consumers and the general public regarding issues and concerns related to institutional long-term care
Promote the development of citizen organizations and volunteers to participate in the program
Advocate for changes to improve residents' quality of life and care
Catholic Charities holds the Kentuckiana Regional Planning and Development Agency and Lincoln Trail Area Development District contract to administer the Ombudsman Program.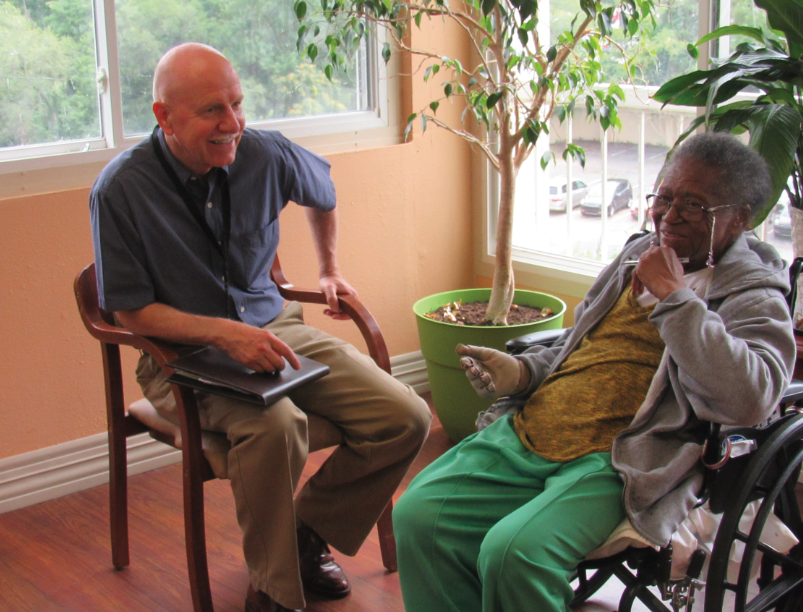 Making a decision to move into a nursing home or other long-term care facility is a new experience for most people. We can provide information that will help you know what questions to ask and how to evaluate the answers when talking to nursing homes about placement. We can also help you locate available information on facilities. In addition, comparative information on nursing home can be accessed at the following website: www.medicare.gov
Nursing homes need more staff
Research shows that residents need 4.1 hrs of nursing care per resident per day in order prevent negative consequences. Read more >